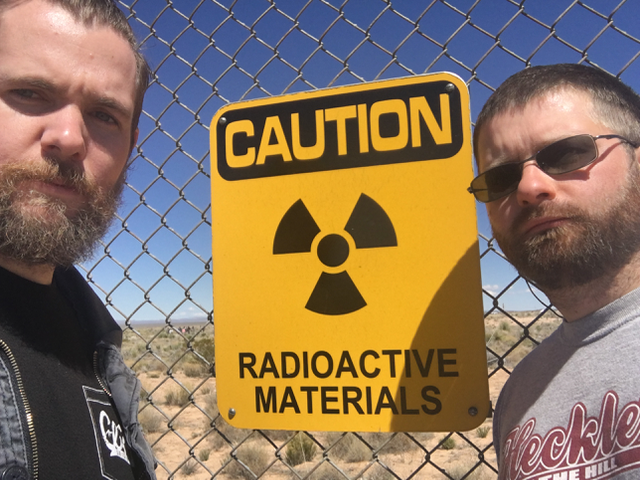 Week three without James, we're almost through this people. Helping me hold down the fort this week is Brian Nelson in Los Alamos New Mexico. In this explosive episode, we heat things up while talking about our visit to the Trinity Bomb test site. Microsoft made some really exciting announcements and Tesla took an amazing amount of preorders. We give you the best (and worst) April Fools pranks on the internet, we explain how you'll end up with a smart fridge and blow your mind with some expert Super Mario World play. We Finally wrap it up with some dating advice.
Download #236: We Visit A Dangerous American Site, Our Experience Will Make You Glow
Subscribe to the Furlo Bros Tech Podcast ( iTunes )
Get the show sent directly to you each week
Get facts and opinions you can use to show you're the tech expert.
Enjoy free and convenient listening while driving, doing chores and exercising.
Hear stories and factoids worth sharing while talking around the water cooler.
It's totally free. Sign up
Become a Patron
This podcast is sponsored by listeners like you. Become a Fanboy starting at $1 per month. You can also be a Nerd, Junky or Maven; where each have their own level of reward. Learn More & Donate
Show Notes for We Visit A Dangerous American Site
Brian and I shared our experience at White Sands Missile Range where America detonated the first Atomic Weapon
Visit The Trinity Test Site
Microsoft had a big week, they're getting aggressive about new technologies and it's exciting.
Microsoft's 10 Biggest Announcements
Windows Ink Puts The Stylus Front And Center
The Bash Shell Comes To Windows
Microsoft's Uncomfortable Truse With The Impending Robot Revolutionists
Microsoft Is Hungry
Microsoft's Bot Framework
Cortana Gets Third Party App Integration
The Phone Is Not Our Focus This Year
Google flexed a bit of their AI supercharged language skills as well
Google's Natural Language Speech Is Getting Good 
There was some hilarious and terrible April Fools stunts this year. No Joke.
April Fools! Via The Verge
April Fools! Via TechCrunch
Google Said Sorry About Their Gmail Prank
What's Realer Than Real?
Tesla had a huge week after announcing the Model 3
Tesla Took 7.5 Billion for Model 3's
This Week In VR I get in to my PS VR pre-order and Oculus's first week in everyones' hands
PS VR Might Eventually Get PC Support
Oculus Pushes Tons Of Data To Facebook
This is the argument for how we all end up with a smart fridge. I buy it.
How We All Get A Smart Fridge
The Robotic Revolution is happening, but don't expect it to be cheap
The Real Cost Of Robotics
MIT has some smart folks churning out some impressive tech that will make us all seem like expert photographers.
MIT Modified A Kinect Camera To See Through Glare
This is the most impressive game of Super Mario World ever played. It's so impressive it's Flappy Birds.
Playing Flappy Birds In Mario World (Matthew)
The girl you're flirting with is talking about you with her friends. This App makes it easier for her to do that and we think it might just be good for guys too. Sorta.
Share Your Dating Conversations With Your Girlfriends