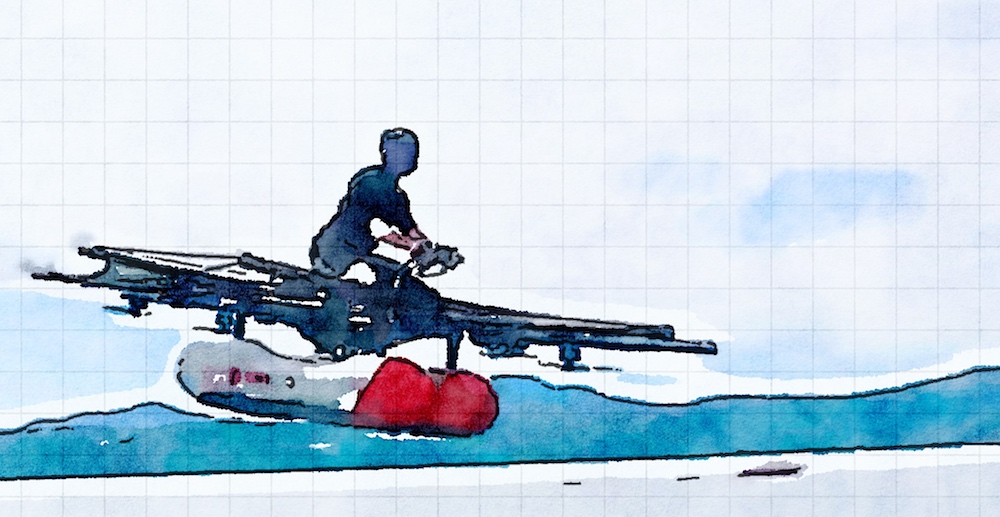 This week's podcast was all about self driving and flying cars. For whatever reason Tesla, Waymo, Apple, Uber, and Kitty Hawk all felt the need to share updates. There're all super cool (below) and it's clear that many companies are getting closer to real products. We also touch on stock trading, social sharing and net neutrality. All the summaries are below.
Download #292: If It's Not A Flying Car Then This Isn't A Podcast
Subscribe to the Furlo Bros Tech Podcast ( iTunes  Google Play Music )
Watch #292: If It's Not A Flying Car Then This Isn't A Podcast on YouTube
Become a Patron
This podcast is sponsored by listeners like you. Become a Fanboy starting at $1 per month. You can also be a Nerd, Junky or Maven; where each have their own level of reward. Learn More & Donate
Flying Car Show Notes
Congrats to Robinhood for the Unicorn valuation ($1B). One way they're helping people start trading is to give referrals one random stock when they join. A super cool idea.
Robinhood stock-trading app confirms $110M raise at $1.3B valuation
What if on any social news app you could tap a button that showed more stories like the one you just read, but it adds a handful of those stories inline instead of sending you to a new page? That's what Pinterest did, and we hope the rest of the web follows.
Every feed app should steal Pinterest's 'more like this' button
Car makers usually build a pilot plant of "soft tools" that can be modified while they dial in the details of making their cars. Tesla is skipping this step and just buying the tools for the final production. This would have been hugely risky in 2000. In 2017, this is exactly what all these tools are meant for.
Tesla Is Taking The  Incredibly Risky Move Of Using Automation The Way It Is Intended
Tesla Is Vastly Expanding Their Charging Options
Tesla Bought A German Automation Company… Then Fired The Dude It's Named After
Musk wanted them to focus on Tesla, the dude wanted to support their old clients. The new boss won.
Is it too early for Matthew to accept his award for predicting exactly what Apple was doing with cars (testing, but now intending to sell them)?
Apple Is Putting Senior Engineers In The Driving Seat Of Their Self Driving Cars
Apple Is Hiring NASA Engineers For Self-Driving Cars
Apple's Self-Driving Cars Spotted In Silicon Valley
Toyota's Gotta Be Thrilled
This is cool: Waymo is offering unlimited rides to families in Arizona. This is the beginning of the self-driving era, and it's super exciting. Though, Google still has employees in the front seat to comply with laws and take over if there's ever an issue.
Waymo Is Going To Offer Unlimited Self-Driving Rides To A Bunch Of Families
The Kitty Hawk Flyer isn't a flying car, but instead is a flying jet ski. It's clearly a toy for the fabulously rich, but you have to start somewhere, right?
$100 Get's You A Spot Inline For Larry Page's Flying Car
Uber Gets Serious About On-Demand Air Taxis

Here's a fun rant piece on flying cars. His issue is that the vehicles are not actually cars… so they shouldn't be called flying cars. Unfortunately for this person, it's already been shown that we like names that are already grounded in a deeper meaning: see the smart phone or, even worse, the hover board.
Also, They're Not Flying Cars
Ajit Pai is going to kill net neutrality. It probably won't be a big deal for a couple years, but it'll be a huge deal in 10-15 years.
Ajit Pai announces plan to eliminate Title II net neutrality rules
ARM did it for CPUs and GPUs, can they do it for ISPs?
ARM Will Sell An Image Signal Processor
Chris Sacca is going to do something else. It's pretty cool that he doesn't feel the need to keep chasing money.
Chris Sacca retires from VC… and Shark Tank